Wednesdays 7:45 pm -9:45 pm
Anytime Fitness Gym
Crown Heights
Unit 2
Alencon Link
Basingstoke RG21 7SY
Hampshire
Nearest Station:
Basingstoke
(Anytime Fitness is directly opposite Basingstoke train station)
Car Parking:
Parking is available in Festival Place Car Park above the town centre.
Parking fee £1 after 5:00 pm all evening until 6:00 am the following morning.
Special Notes:
Class is open – Training as usual
(With safer training schedule during pandemic)
Open to all members with pre-booking
Instructor:
Senior Master
Adison Bridet
5th Degree Black Belt, BSc (Hons)
Undefeated
British Light Heavyweight Champion
Awarded Black Belt:
1983
Contact:
07774 222227 (mobile)
Important:
* No photography or videoing allowed
* Please use your mobile phone outside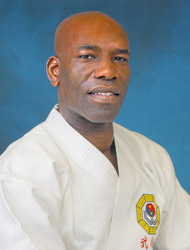 Adison (left) practising sparring with a partner.
Basingstoke Wu Shu Kwan
Safer Training Schedule for Reducing Risk of Covid-19 Infection
As agreed with training facilities provider:
• All instructors and students must bring a face mask and a face shield to every class
• Bring your own sanitiser and sanitise your hands at the entrance of the gym
• Floor to be cleaned prior to class starting
• Class limited to 8 students
• Booking system will be in operation. Please contact any of the following persons to book your place each week:
Adison – 07774 222227
Paul – 07801 040563
Giles – 07904 571123
• Any booking cancellation should be notified to one the above three officials as soon as possible, in order that his/her place can be offered to the next student in good time
• You are encouraged to wear a face covering during class
• Students will be positioned to achieve maximum social distance (possibly staggering columns)
• Warm up – as standard
• Stretching – some exercises will be modified for social distancing, no pairing up
◦ Sit-ups – completed on your own
◦ Back stretching – lay on your front, lift chest off the floor using arms, arch back pushing hips towards the floor
◦ Sitting down chest to thighs – as normal but completed on your own reaching for toes
◦ Stand up, sit down – feet twice shoulder distance, sitting in a squat, hold for 30 seconds, repeat twice
◦ Leg stretch standing – splits with right leg in front and left leg behind, change with left leg in front. Go as low as possible
◦ Leg straddle stretching sitting / standing – also completed on your own
• Basics – as standard
• Floor to be cleaned after basics
• Forms – seen by instructor max two at a time
• Fixed Sparring
◦ Completed in pairs but observing social distance guidelines
◦ Throws can be walked through – no contact
◦ Knife and stick can be walked through – no contact
◦ Mandatory face covering to be worn
• Free Sparring – Only those students who wish to spar, face covering is mandatory and gloves cleaned prior to first use and after each bout
• Bag/pad work – equipment to be cleaned prior to use, hand sanitiser used before and after for those holding bag/pads, who must also use face covering
• Sparring techniques – face covering mandatory
• You must provide your own training equipment and should not share with others
• After each training session, your uniform should be carefully washed to avoid cross contamination at the next class
• You are required to sign at each training session a disclaimer confirming that you have not suffered any Covid-19 symptoms in the 10 days prior to that session
The above details are subject to change, with the objective of improving safety against and/or reducing risk of Covid-19 infection
Adison Bridet
Senior Master
Date: 27/01/2022